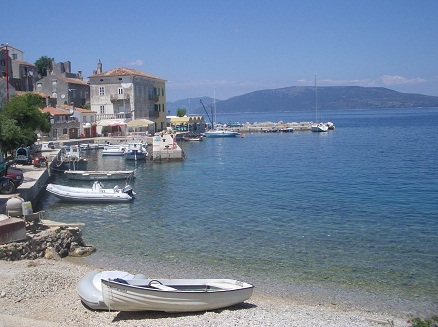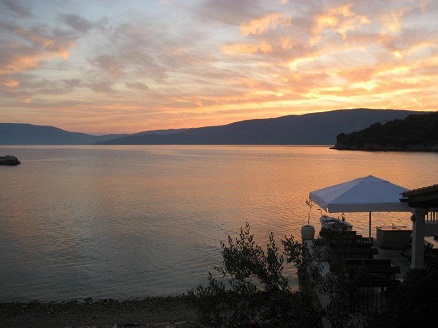 WELCOME TO VALUN ON THE ISLAND OF CRES
Valun is a beautiful little fishing village nestled below the steep hillside and sheltered in the Bay of Valun. This little hamlet is secluded and quaint, surrounded by pebbled beaches. The narrow cove is rarely crowded with nothing blocking your view of the old stone town clinging to the hills. You most certainly will be charmed by Valun, and want to return again and again!
THE HOUSE
The house was lovingly built by Anton Kamalić in the 1800's, passed down through the generations but always in the same family. The old stone walls were crafted to house the family with all of the needs: Rooms to keep the nets for fishing, a warm kitchen and chimney for cooking, and a konoba (cellar) for storing the homemade wine, olive oil, and supplies for the harsh winter months. While the house has been updated to provide all modern conveniences, it retains its original character and charm. Today the old konoba still holds wine, and you can still see the large square nail hooks where equipment was hung from the sturdy wood beams.
THE APARTMENT
The lovely apartment overlooks the sea, a mere 5 metres from the water's edge. Owned by the great-granddaughter of the original home builder, the apartment is a clean and well distributed space providing light, comfort, and an unparalled view of the Adriatic Sea. It has a fully furnished kitchen, living area, one bedroom, and one bathroom. There is a pullout couch in the living room to comfortably sleep 4 persons in total. It is on the 3rd floor, up 2 flights of stairs, with windows overlooking the sea on one side, and a patio terrace with grapevines on the other. The clean pebbled beaches are just a short walking distance away. Enjoy sipping wine while catching the soft breezes that blow from the sea, or sit out on the patio surrounded by grapevines and overlooking the quiet garden.